Every single detail matters. Trust but verify.
We help stakeholders confirm the logic, quality and security of their Ethereum smart contracts using our comprehensive and standardized smart contract audit process. Our smart contract audits combine compliance, security, a comprehensive checklist of known pitfalls and attack vectors, Solidity design patterns and best practices. We also verify business requirement logic against the implemented code.
Inspect What You Expect
Security is critical, and analyzing every line of code for logic errors is where we shine
Security + Validated Logic = Flawless Launch.
What Don't You Know?
We know the ins and outs of production smart contracts and security token regulatory compliance.
We'll help you ask the right questions, so you begin to learn what you don't know.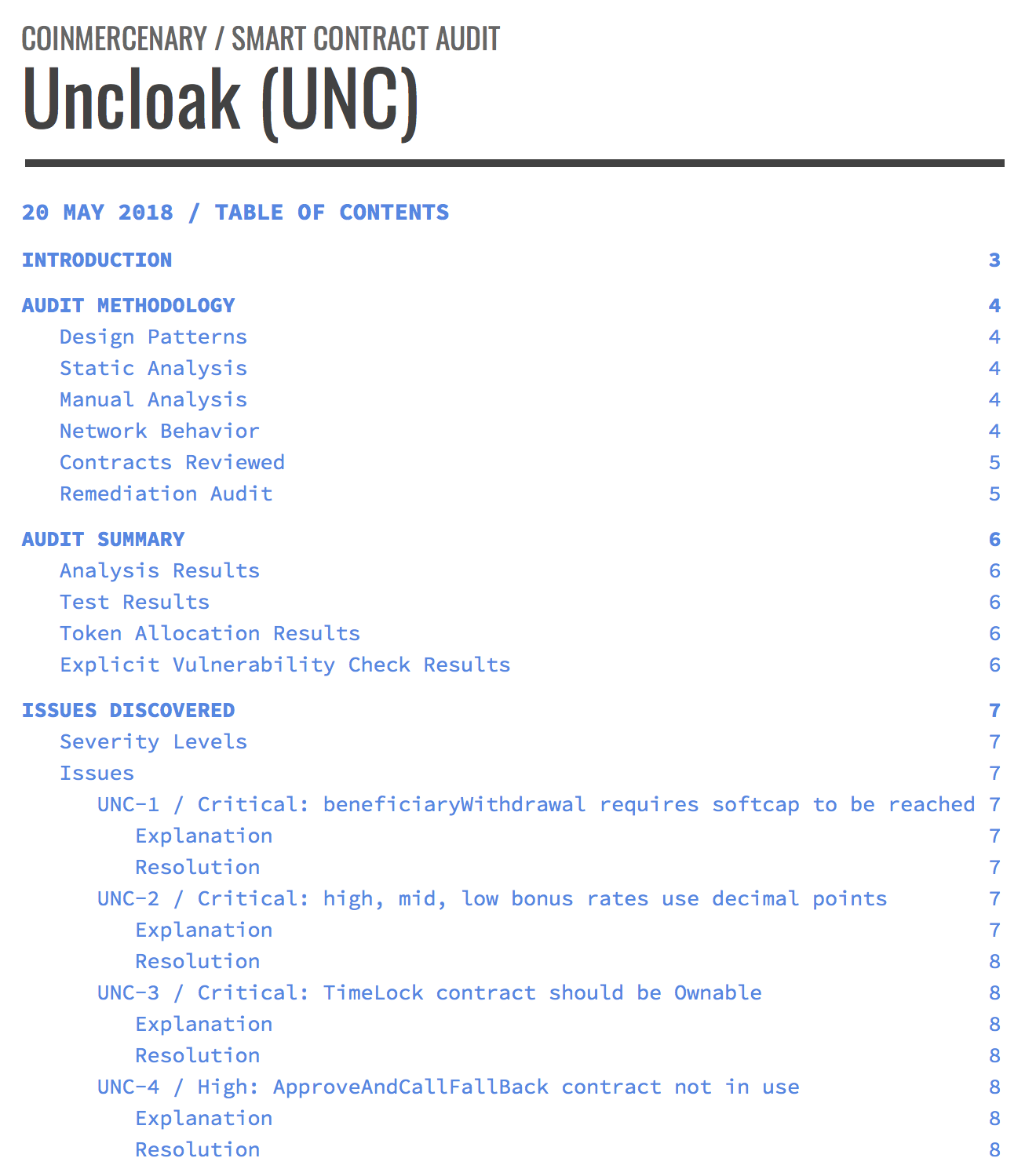 Would you like to see a smart contract audit report?
Why Choose CoinMercenary?
Professional Smart Contract Auditing
Everyone is a Smart Contract Auditor these days, just like your Uncle used to be a Webmaster. Work with us and you'll understand the difference between a professional security auditing firm and some random guy from Reddit. We do the work and deliver on time, everytime.
Insured Smart Contract Audits
Ask any other auditor what the consequences are if they make a mistake. At best they'll say their reputation will be damaged. We stand behind our work and stake more than only our reputation. We have professional liability insurance that covers errors and ommissions for all of our work.
Auditing Partners
Our relationship doesn't end after we deliver your initial smart contract audit results. We work closely with you and perform remediation audits for any code updates. We're part of your team; you can count on us to be there for you.
Truly Independent
We are 100% focused on crypto security and do not offer development services. This ensures your smart contract audit is completely unbiased and performed by a truly independent third party — us.
You're in good hands
The best engineering teams in the world trust CoinMercenary.





Frequently Asked Questions
Got a question? We've got answers. If you have more questions, contact us.
How do we pay for our audit?
We accept all major cryptocurrencies, credit cards and wire transfers.
How long does an audit take?
By relying on modern technology and years of experience, we deliver smart contract auditing services in days, not weeks.
How much does an audit cost?
We offer an affordable flat fee for ST20, ERC884, ERC20 token, crowdsale and security token offering contracts. Custom contracts are priced on a per-project basis. Request a quote to receive our pricing sheet.
What happens if you make a mistake?
We don't make mistakes. We've performed flawless audits for over 80 blockchain companies. Our reputation depends on providing detailed, thorough smart contract audits. In addiiton, each audit is inspected by a second auditor to ensure we inspect what we expect.
Do you write unit tests using Truffle?
For an additional fee, we would be happy to write unit tests as part of our packaged audit services.
Will exchanges accept your audits?
Yes. Most of the top 20 exchanges require smart contract audits prior to listing. We've performed many audits for customers specifically for exchange listings.
Are you familar with the regulatory requirements for security tokens?
Yes. We are intimitely familiar with the various Reg A+, Reg D 506c, Reg S and S.A.F.T requirements for security tokens within the United States. We can confirm lock-up period compliance among other regulatory requirements for you.
How Our Audit Process Works
Working together is a simple 4 step process.
01
Simple to submit. Easy to Understand.
Beginning your smart contract audit is quick and painless – and you won't need developer assistance. Finally, a streamlined smart contract auditing process.
02
Fastidiously prepped. Lightning fast.
Our audit process consists of four categories of analysis. Design patterns, static analysis, manual analysis, and network behavior. We use both software and humans to review your code, line by line, asking questions and inspecting what we expect from every function and variable.
03
Strictly custom.
We take a tailored approach to your business and specific needs. You'll have the undivided attention of one of our senior auditors throughout the auditing process.
After finishing your audit, we send you the first smart contract audit report which contains detailed, comprehensive feedback for any issues we discover during the auditing process. Your team addresses any issues discovered.
04
You're in good company. With years of auditing expertise.
We continue to perform remediation audits to confirm all issues have been resolved. We then deliver your final, beautiful PDF audit report to you.